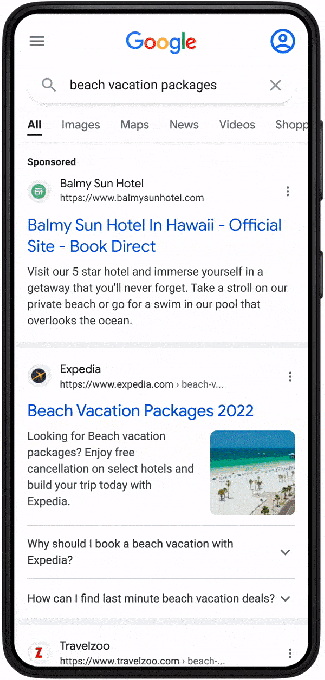 TechCrunch recently highlighted how Google is changing their ad labeling on mobile devices.
A few big changes include:
ad label removed from individual ad units
where the unit-level label was instead becomes a favicon
a "Sponsored" label above ads
the URL will show right of the favicon & now the site title will be in a slightly larger font above the URL
An example of the new layout is here:
Displaying a site title & the favicon will allow advertisers to get brand exposure, even if they don't get the click, while the extra emphasis on site name could lead to shifting of ad clicks away from unbranded sites toward branded sites. It may also cause a lift in clicks on precisely matching domains, though that remains to be seen & likely dependes upon many other factors. The favicon and site name in the ads likely impact consumer recall, which can bleed into organic rankings.
After TechCrunch made the above post a Google spokesperson chimed in with an update
Changes to the appearance of Search ads and ads labeling are the result of rigorous user testing across many different dimensions and methodologies, including user understanding and response, advertiser quality and effectiveness, and overall impact of the Search experience. We've been conducting these tests for more than a year to ensure that users can identify the source of their Search ads and where they are coming from, and that paid content is clearly labeled and distinguishable from search results as Google Search continues to evolve
The fact it was pre-announced & tested for so long indicates it is both likely to last a while and will in aggregate shift clicks away from the organic result set to the paid ads.
Source:: seobook.com